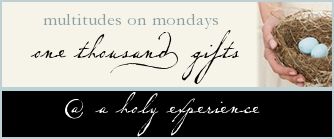 This week brought me to the 1,000 mark, and I decided to stop numbering there. Not stop recording, but stop numbering. I'm going to use
Ann's "7 Gifts: Good & Perfect" booklet
, and every time I fill it, I'll copy it to my new
gratitude page
.
I stopped numbering something else this week, too. Blog stats. I had begun to fixate on my stats in a rather idolatrous fashion, so I disabled all my stat counters and closed comments. Not because I don't want to hear from you. I do. You will find a link to my contact form under the tree on my site. Come, sit in the shade, out of the way, and let's talk. Just us.
But over the past couple of months, God has been whispering softly to me
why
I write. Not to be read. Not to be widely-read. Not to pontificate. Not to entertain. Not even to help others.
I write because in the writing, God heals me. In the writing, I find Him. I invite you to read that He may heal you, too. That you may find Him. I simply tell what Ann calls my messy story ~ what I call my
mercy
story ~ in obedience to God, as His
poiema
~ His literature.
For Him, my audience of One.
Thy mercy, my God, is the theme of my song.
The joy of my heart.
The boast of my tongue.
Thy free grace alone from the first to the last,
Hath won my affections and bound my soul fast.

~John Stocker
The End of the Numbers ~ 983 - 1,000
a sea of syrup
bar soap
cats refusing to move off the bed
reasons to write
letting go of the numbers
cat waiting for morning milk
Warrior Prayers
the who, what, when, where, why and how of blogging
lessons in boundaries
theological absolution
piecing together a puzzle spanning nine years
the gift of good works
living in community
candlelight
babbling to God
used books at Goodwill
rest days that morph into laundry days
being totally free to tell my messy mercy story