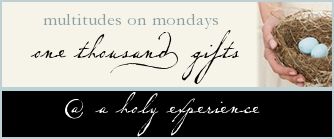 Today, I just have a minute, so I'll get right to the list. Last week was a week of preparation. For women's retreat music, for a dear friend's overnight stay, for a weekend away. It was a full week. Full in tasks, and full in blessing.
Tuesday, Feb 22 ~ 399-426
cuddle time
glaring cat
the power of rain
a husband who helps with laundry
Jeff's lullaby snore
being limp in Your arms, Abba
hope in Christ
Acts 5:20
laundry warm from the dryer
waving to friendly neighbors
the boys' teachers
the boys' bus driver
playing the old keyboard with Jonathan
sunbreaks amidst the suggestion of snow
James's smile when he finds me watching him
dogs happy to see boys
Salvador
a reply to a fan letter
little boy smack talk
mown grass increasing my view of the giant redwood
a hovering hawk
baby carrots
the grace of God that brings salvation
the anticipation of seeing a dear friend
sons who consent to forehead kisses
dinner from Grandma
a mother-in-law who loves holidays
mountains of clean, instead of dirty, laundry
Wednesday, Feb 23 ~ 427-437
small head rested against the soft pillow of my tummy in peaceful slumber
"it's just so cozy and i'm just so tired"
Jeff's fingers
Jeff patting my shoulder in his sleep
kitty paws that bat
kitties that attack my wiggling toes
Elizabeth Elliot's permission to read what I write without the angst of delivery or polish
daily help with self-discipline
wiping off the counters with Jeff
folding laundry
the permeation of wood heat
Thursday, Feb 24 ~ 438-471
snowfall
school closure
ear-to-ear grins of excited boys
the world muffled by snow
snow on tree branches
the luminescence of snow
the evil, gleeful grin of a snowball fight instigator
the nostril-flared, vengeful determination of the snowball victim
cryptic, playful Jeff
strong coffee
a trainable puppy
muddy snow angel
snowy pond
begin pulled down the hill by daddy
dogs enjoying snow
snow pictures
Jonathan's names for the big trees: cucumber, fatso, plumage, tall hair
snow gear all peeled off
hot chocolate
quilts
cartoons
melting snow
chocolate-colored hair
sun on snow
Jeff IMing me from across the room
texts about tucked vs. untucked sheets
transforming the boys' room into a guest room
cleaning the bathroom with Jeff
lingering snow
unconditional acceptance
Jeff driving me to the airport when I'm scared of the icy road
homemade soy mocha
wise, steady, sure driving of Jeff
Ruth's delayed flight
Friday, Feb 25 ~ 472-477
safe travel to retreat
prayer with the ladies
listening to Ruth's heart
Kathi's testimony
new truth from Psalm 139
ladies who worship fully and sing heartily
Saturday, Feb 26 ~ 478-494
Kris Jellum and Tahlia Martin
tightly bundled people walking on the beach
crashing waves, of course
transparent lamp base full of sand and seashells
rock masses reaching to escape into the sea
Haystack Rock
sand dunes
pink sunrise
long, long conversation with very dear friend
rich small group discussion
Debbie the Dining Room Hostess
the girls who made our beds and brought us towels
white elephant Creative Memories acquisition
palm gloves for Ruth that perfectly match her scarf
uproarious laughter
writing encouragement notes
the gift of a thankful heart that God puts in me
Sunday, Feb 27 ~ 495-521
the presence of God
the promises of God
seagulls flapping precariously in wind
no talking before breakfast
stormy beach
the love of God
session notes
corporate worship
safe travel home from retreat
Paula leading the icy road caravan
a quesadilla for Ruth
family drive to the airport
escalator rides
revolving doors
extra hugs goodbye
Jeff's driving
Jeff's car genius and competence in the face of billowing steam from the engine
being able to drive straight to AutoZone and buy car stuff
Jeff waving at me through the windshield while working on the car
block sealant
engine oil leak stopper
antifreeze
AutoZone Rewards cash balance
that the car waited to be cranky until we were over the icy roads, we had dropped Ruth safely at the airport on time, and Jeff was driving and watching gauges
boys who are experts at keeping their lips zipped when Daddy needs to listen to the car
getting home without being stranded
Monday, Feb 28 ~ 522-528
the end of February
discovering that my fear of rejection is just a mask for my pride
women who pray for me without judging me
patient Jeff
tasks completed in spite of me
God's strength in my weakness
going to sleep in peace