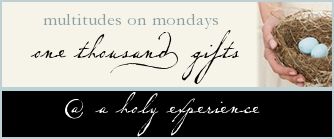 This week didn't go as planned. We intended to visit my mama in Idaho. We got all packed, but on the morning we were set to leave, Jeff discovered some Jeep crankiness that effectively cancelled our trip. Boo on Jeep crankiness.
But God is teaching me all the time about His purpose, His plan, His will. He obviously knew the Jeep would be cranky and we'd have to cancel our trip, so I was pretty curious to see what our week would hold... what He had planned.
I would like there to have been some cosmic purpose I could point to forever after... some reason to say, "That's why we didn't get to go see my mama, and because of that tangible thing I can see and point to, it's all good."
No such luck. We had a quiet week at home. I didn't even have any epiphanies! (I am always having epiphanies.) What I did have, and what we all had, was illness in varying forms. Boring. Nothing major. Just the Tired Cold/Flu. Boo on the Tired Cold/Flu.
We also had something else. God's presence. Always. In everything. And family togetherness. "Just us" time. Game time. Read-aloud time. Sleep, sleep, and more sleep. Probably, truth be told, a lot more restful than Idaho would have been. And instead of feeling like I need a week to recuperate from my vacation, I feel, instead, ready to tackle my given tasks. I super crazy miss my mama, but God knows the rest I need. And He always provides.
Monday, March 21 ~ 909-914
Once more 'tis eventide, and we,
Oppressed with various ills, draw near;
What if Thy form we cannot see?
We know and feel that Thou art here.
~Henry Twells (1823-1900)
hundreds of geese
Jeff's goatee
family silent together
James's Lego game
listening to Jeff read Hardy Boys
Tuesday, March 22 ~ 915-931
prayer
cheese toast
fresh coffee
the bond that is You
unity in resolving conflict
my covering
kids making ape noises
love
truth
grace
forgiveness
mercy
the way Jeff brings a chunk of his goatee into his mouth and chews on it
fresh tomatoes
hanging out at the pond as a family
clearing a path to the near side of the pond
creating a space for solitude
Wednesday, March 23 ~ 932-936
hooting owls on our land
the everlasting geese migration
being near a hotel for geese
the blood of Jesus Christ
"Always Marry an April Girl" ~
Praise the spells and bless the charms,
I found April in my arms.
April golden, April cloudy,
Gracious, cruel, tender, rowdy;
April soft in flowered languor,
April cold with sudden anger,
Ever changing, ever true --
I love April, I love you.
~Ogden Nash (1902-1971)
Thursday, March 24 ~ 937-953
Rivendell
letting us stay here on Your land
this blessing of peace
date night with Jeff
yesterday's rest
more firewood
a sleepover at Grandma's
being a wild God
giving me a wild man
Coffee Cottage
credit card fraud protection
amazing conversation
clicking
rooster friend
barely scratching the surface
the promise of more
rest
Friday, March 25 ~ 954-961
flexible children
movie night
being taken care of on fuzzy brain days
grace
Ring the bells that still can ring,
Forget your perfect offering.
There is a crack in everything.
That's how the light gets in.
~Leonard Cohen (1934- )
p2g
growing pains
God's sovereignty
Saturday, March 26 ~ 962-975
feeling a little better
playing B4ME with James for a couple of hours
date with Jonathan
sunbreak on a stormy day
finding a park to ride the scooter at
picking our favorite snacks
redbox
playing Mario dodgeball with James until bedtime
going to bed when the boys do
discussing all the things of all the people
Prayer does not fit us for the greater work;
Prayer is the greater work.
~Oswald Chambers (1874-1917)
praying together
pets who wake me from nightmares
God's presence
Sunday, March 27 ~ 976-982
life's circumstances vs. the sovereignty of God
Should Thy mercy send me sorrow, toil, and woe
Or should pain attend me on my path below
Grant that I may never fail Thy hand to see
Grant that I may ever cast my care on Thee
~James Montgomery (1771-1854)
looking out my window and discovering anew the amazing view
noticing a nearby orchard for the first time
daffodils in my yard
blossoming trees
Captain Jeff