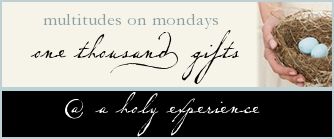 Tuesday, March 8 ~ 643-664
early morning prayer
safe travel in a moving van
signed contracts
a sister who teaches me how to listen
a sister who teaches me how to stop belittling myself by not belittling me
hiking to the pond with little ones
wending our way through blackberry brambles
lifting little ones over swampy mud
wearing cousins' boots
throwing sticks in the water
finding thick tufts of grass to sit on
seeing the landscaping vision
Little People claymation with great, big hands
church family patient with my fears
Beth Moore's public adoration of her husband
the high priority of my marriage
not being responsible for Jeff's spiritual life
marriage's reflection of the mystery of the love of Christ for His people
a husband who won't let me control him
a husband who will let God control him
"Submission is learning to duck so God can hit your husband." ~Tony Evans
getting to take my sister to Bible study for show and tell
Wednesday, March 9 ~ 665-686
raining cats and dogs on the way to the beach
rainbows
swollen creeks and rivers
a good parking spot at my favorite beach access
bundling up in cousins' coats
sideways rain pelting our faces like sharp needles
confused faces of toddlers standing in a storm
spending more time bundling and unbundling than on the beach
sitting in the van watching the waves
a very, very blustery day at sea
Job 38:8-11
an indoor play place
defying claustrophobia to save a stuck, scared toddler
Robert's Books
a safe drive home
a bouquet of pink and red roses
"It's us."
learning to follow God's appointed leader
worship practice worship
beautiful Jeana's beautiful smile of joy
talking about knitting with Allison
a sister who is a good babysitter
Thursday, March 10 ~ 687-721
being all packed the night before
wanting to leave by 5am and making it out the door with five kids by 5:15!
getting to spend five more precious hours with my sister
getting to hug my brother
getting to see the new place
getting to learn the town, and liking it
town signs
walk-in closets
good flooring
tall privacy fence
sunlight and hope
finding the right gift
discovering a bewildering section of pop culture birthday cards
sharing books with family
singing happy music with my nieces
being loaned the happy music
Jeff letting me listen to it on the next leg of the journey
beautiful view of lake frozen solid and covered with drifting snow
my excellent, excellent driver husband
feeling safe with Jeff behind the wheel
a shortcut
the scenic route familiar to my brother
the blessing of a beautiful country home for a beautiful growing family
getting to live close to parents
toddler speech
toddler sprinting around the house at lightning speed
my new baby nephew!
watching him grow magically calm and sleepy in my arms
Settlers of Catan
seeing Dad's truck
seeing my brother's shop
refinished dresser
tacos
hand-crafted crib
Friday, March 11 ~ 722-753
sleeping in
yummy breakfast
baby gifts
visiting around the breakfast table
meandering circuitously toward the freeway
making it to my cousin's house before naptime
binder clips
Reisling
getting to hug Auntie Brenda
sweet, sweet twins
yummy broccoli
"hard" mac and cheese
my Sam
driving through Seattle before Friday rush hour
my sweet sister
my amazing nieces
a well-organized home
breathing room
a round, green, cushy chair just off the kitchen
tea in Grandma's china
doing a puzzle with my niece
a keyboard tray
an old dollhouse, built in 1981 by my dad for my sister, whom God alone knew would have daughters to love and decorate it
getting health tips from my big sis
checking our blood sugar levels together
being loved and cared for
being worth it
being *known* and being *readable*
being understood
cousins playing together with great gusto
staying awake on the drive home
Saturday, March 12 ~ 754-756
sleeping in very late
reading all the live long day
falling asleep early
Sunday, March 13 ~ 757-779
early, early call time
intonation
transitioning from How Great Is Our God to How Great Thou Art
the Steinway
the Chipmunks
my funny soundman husband
God's strength in my weakness
being God's inheritance
the essence of God
the transforming, miraculous power of Scripture
small group strategies
small group leader leaders
the bema seat
glorified Dad
studying more
the boys getting to spend time with their grandparents
getting to hug my sis
torrential downpours and gale force winds
sunbreaks
memorizing Philippians
listening without interrupting
reasons to blog
the first evening of saved daylight
swooping, speeding, frenzied, frolicking flocks of birds