Jonathan is my cuddler. He climbs up into my lap, snuggles his head against my shoulder, sighs a happy sigh, and goes limp. Complete trust.
Psalm 46:10 says, "Be still, and know that I am God." The word for "be still" is
raphah
.
Raphah (rä·fä') ~ cease striving. let go. relax. sink down. be quiet. show oneself slack.
Like Jonathan. Crawl up into God's lap, sink back into Him, and go limp.
This was a tough week for me, physically and emotionally. I had a hard time remembering to be thankful. But through Jonathan, God showed me that while I am under the cloud of grief and pain, I am simultaneously under the shadow of His wing, and from there, nestled up against Abba, I can sing for joy. Eucharisteo. Raphah.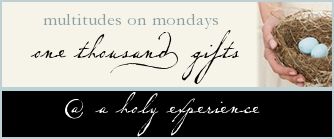 Tuesday, Feb 15 ~ 286-307
The God who sees my pain, the Great I AM, God with me, God's truth, rest.
Being Jeff's wife.
A new body someday, fuzzy brain days.
Writing. Jon Franklin.
Mom.
Psalm 115.
Fibromyalgia. Light chocolate soy in my coffee.
Watching the credits disappear at the top of the screen. Silence.
Chatty children. Vibrant life getting off the school bus. The noise of gusto.
Gracie the Cat curled up on my feet.
Musicals with sing-along subtitles.
Jeff home an hour early.
Wednesday, Feb 16 ~ 308-321
Raindrops pattering on the roof.
Psalm 27:1. God is LIGHT.
God's mercy, grace and peace cover me like a blanket.
This too shall pass.
Daddy is with God.
Someday Daddy and I will stand hand in hand and sing together with full, perfect voices, "Holy, holy, holy is the Lord God Almighty, who was and is and is to come."
The music of the rain, the love song of the rain.
The aftermath of getting ready for school. Big brothers who caution little brothers to protect their donuts from the rain.
Kisses that taste like coffee.
1 Thessalonians 5:23-24! Yay!
Super cool treehouse with bucket and pulley.
Thursday, Feb 17 ~ 322-332
Prayer, Abba's presence, Abba's power, Abba's sovereignty.
OpenOffice.
Jamie and Kathi, the Steinway at church, a copier that staples, leading music at retreat.
Notes about the boys' haircuts on file at Great Clips.
Breakfast for dinner.
Friday, Feb 18 ~ 333-338
Devotions with Jeff.
Helping Jeff get the wood stacked, sweeping out Jeff's truck.
Nieces singing ABBA.
Early release from school, riding lawnmower rides.
Saturday, Feb 19 ~ 339-351
Breakfast in bed, Saturday mornings, sleepy Jonathan, wood heat.
The Great Healer.
The pit in the forest.
Luke 10:39.
Not being able to stand being apart from Jeff.
Vice versa.
Mirrored doors. Velcro doorstop.
William Cowper.
Snow on distant hills.
Sunday, Feb 20 ~ 352-376
Teaching moments. Childhood delight over a gift.
Awaking in the night and glimpsing the round moon.
A husband who lets me trace his face.
Sitting cross-legged.
Boys old enough to take their own showers and brush their own teeth.
Waving from the balcony to a friend on stage.
Every spiritual blessing right now.
Being hand-picked by God.
My handwriting. Michelle Anthony, whose handwriting mine tries to emulate.
Amazing Etsy jewelry
. Tangible reminder to abide in His love.
Yom
Shaqat
. Raphah. Eucharisteo.
Shachah
Zamar
.
Losing track of whether or not something is already on my gratitude list.
Horner's Bible reading system.
Responding to a hard day by sitting in a circle on the living room floor and praying together.
Proclaiming the goodness of God one attribute at a time, clockwise.
Getting stumped, grabbing our Bibles, and continuing on.
Being able to find the goodness of God on every single page of Scripture.
Singing worship songs together.
Knowing Satan
fled
.
Monday, Feb 21 ~ 377-398
Page one of a new journal.
A servant husband, Grace Days, abdominal pain.
The wrongs I have done nailed there with Him on that cross.
The wrongs
done to me
nailed there with Him on that cross.
Having no depth perception.
The gaggle of hundreds of migratory geese.
One more day with my family.
Little boys who pitch themselves headfirst over the edge of the bed and leave just feet dangling in the air.
Four brothers.
Aleve.
Micah 7:19
A family that tends to congregate around me.
Freshly-washed, soap-scented hands. Giant stuffed bears.
Here in the death of Christ, I live.
A tree trimming husband. Seconds-old sawdust scent. Boys who drop everything and bolt toward the sound of a chainsaw. The eradication of tree branches in order to widen the view of the hills from my chair.
Ear plugs.