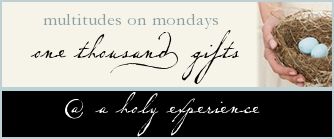 This morning, I read the story of the two-drachma tax and the fish with the coin in its belly that supplied what Jesus and Peter owed.
Seven-year-old Jonathan listened in, and then together, we read a poem about the story in the Christian Mother Goose book, from the fish's perspective.
One line reads, "And because he was a fishy bank for Jesus, He was the happiest fish in all the sea."
That fish had one job. To keep and preserve a treasure until Jesus was ready for it. That's all. Nothing grand. But because he was doing it for Jesus, he was perfectly happy and content... the happiest fish in all the sea. And taking it a step farther, in real life the little fish had to die and be gutted to produce the treasure. Broken and spilled out. Just like Jesus.
God has given me two treasures to keep and preserve for Him. James and Jonathan. The vast, varying, complex, daily tasks which accompany my treasures were also given to me by God. In these tasks, in this service, in this day, I am to be content. And when I serve my family heartily, as unto the Lord, I am the happiest mama in all the sea.
Colossians 3:23-24 ~ "Whatever you do, do your work heartily, as for the Lord rather than for men, knowing that from the Lord you will receive the reward of the inheritance. It is the Lord Christ whom you serve."
My theme for the year is contentment, and this week God showed me that the single thing I am least content with is... me. He is also teaching me about self-idolatry. So... there's a connection there. When I focus on my flaws, I malign God's creation. And I cheapen the Cross.
Amidst these lessons about being content where I am, with who I am, and with what I've been given to do, I come upon Monday, and the practice of gratitude.
I'm thankful for...
33. My underfunctioning hypothalamus.
34. A God who meets me in the midst of deep sorrow.
35. Kids who want to spend time with their parents.
36. My little camera.
37. The miracles that are breathed of God... you, me, Scripture.
38. My beard.
39. Our giant redwood tree.
40. The treasures God has entrusted to me.
41. Sons who monologue.
42. My best sweet kitty.
43. Mt. Laundry.
44. Chocolate chip cookie dough.
45. God's promises.
46. Isaiah 40.
47. Living in community.
48. Views of God's mercies. New every morning.
49.
The next thing
.
50.
Annie Sherwood Hawks
, the homemaker who penned "
I Need Thee Every Hour
" during a pause in her regular household tasks.
51. The gift of a new, curved rod that alleviates my phobia of being eaten alive by the slimy shower curtain.
52. My strong husband's gentle guidance by his humble acknowledgment that he is nothing without Christ.