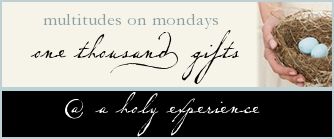 Ann Voskamp describes hard
eucharisteo
in her book. It's the kind of gratitude Daniel had to have for being shut up with lions. And the kind Paul had to have for his thorn in the flesh. And the kind I have to have for my dad's death. Gratitude that flies in the face of reason.
Voskamp says, "Thanksgiving is the evidence of our acceptance of whatever He gives" (
One Thousand Gifts
, p. 39).
Holy cow.
I can say God never allows evil for the sake of evil, and I can say God therefore only allows evil if good will come from it, and I can say the specific good that comes from evil is the outpouring of God's mercy, and I can say the outpouring of God's mercy is the only way our finite minds can understand His infinite love.
I can say all those things and apply them to Dad's death, but I haven't really accepted Dad's death until I can truly be thankful for it. When I can say I'm thankful to God that my dad died, then I have accepted what God has given and what He has allowed. Then I am no longer Job's wife, whose husband has to remind her that we are to accept adversity from God as well as good (Job 2:9-10).
This challenging and preposterous notion stayed with me through the entire week of hard eucharisteo, and it leads me to my first item on this week's list:
53. I'm thankful God puts gratitude in my heart that I cannot produce on my own.
For the first two weeks of this exercise, I just tried to think of a few things when I sat down to post. But that's not a lifestyle of gratitude. That's a blog post about gratitude. Not the same thing. This week, I kept my journal handy, so the list is a bit longer. I'll go by day.
Tuesday, Feb 8 ~ 54-58
Dirty dishes and laundry chaos that teach me that all my sin has been nailed to the cross and remind me that I am more sinful and flawed than I could ever dare to imagine, but I am more loved and welcomed than I could ever dare to hope.
The desire to be close to God, the shed blood of Christ, the power that raised Christ from the dead, the desire to serve my family.
Wednesday, Feb 9 ~ 59-121
My cluttered home, my big laundry piles, our overgrown grounds.
God's grace, the Lamb that tore the veil, my mood swings, 5:30am, "Stayed on Jesus",
Randall Goodgame
.
Tony, Daddy, Daddy's life.
Crisp, clear, cold days.
Purposeful days, our pets, ribbon bookmarks, birds that sing about sunshine.
Being made new in Christ.
Walking to the mailbox with Jeff, dreams about where to plant the garden, a loaned tractor, scented stationery, letter-writing, silent companionship, full sunlight, birds flying in V-formation.
Clean toilets, clean dishes.
Psalm 46:10.
The tick of the second hand.
Laundry energy, a researcher husband, fresh tomatoes, cozy rhythm of zippers in the dryer,
David Crowder Band
, a husband who wants to be at home.
Pronunciation
recordings
on blueletterbible.com.
Sunlight on eyelashes, golden sunsets, sons who gallop galumphing to the bathroom.
Gracie, our love/hate kitty who teaches me to live up to her name.
A mama who runs to Jesus.
Space heaters, new arrangements of old songs, texting my mama, scented candles, my wedding ring, my special pen, red tab-top curtains, my red fuzzy blanket, my pink slippers.
Fingernails uniformly trimmed.
My red mouse, my red travel mug, warm winter wear.
The "in Christs" of Ephesians, the whole family together in one room, filtered tap water, a shiny sink before bed, sons who sleep haphazardly, the tamed laundry beast.
Charitie Lee Bancroft, 1863
.
Experiencing the miracle of joy that follows eucharisteo.
Thursday, Feb 10 ~ 122-166
Marrying my polar opposite, good helping skills, my weight, healthy food, land to walk all over, land to cultivate, learning to cook, being a homemaker, reasons to clean the floor, getting on the same page with Jeff.
Hope.
Lists.
Double fiber bread, chew toys for puppies, water with lemon, sunny days in a row, rolling hills on the horizon.
The shadow of pen across paper.
Fanny Crosby
.
Accountability, hours away from the computer, mama's old bureau, Lego games.
Being rejected, old hurts brought to the surface and let go, forgiving and being forgiven.
Hair tinted red by the sun, split ends, my sons' imaginative play noises, being left-handed, my red lap desk.
"Cks" words spelled with X. Netflix. Bex. Sox.
Coffee.
The only Wise God.
Alphabetizing, sons who are careful with my papers, lamps with remote control light switches.
The silence of the country. The sounds of the country.
Sons who tell stories and draw illustrations, smelling cinnamon with Jonathan, paint on pants, going to bed at 10pm, memory foam, planning worship sets.
Friday, Feb 11 ~ 167-190
Waking from a sad dream about Dad with
this song
in my head.
Jeff's steady comforting snore, waking early, the desire to write, the desire to bring God glory, Abba's delight, Zeph 3:17.
Sleeping dogs, fried ham, heaven, steady Jeff, patient Kimberley, high highs, low lows, God's mercy.
Humming dishwasher, thrumming washing machine, dishes rattling in the hutch, Old Country Roses, asparagus salad, The Food Network.
Bright overcast skies, the hint of a peaceful breeze outside.
Sheet protectors.
Saturday, Feb 12 ~ 191-230
Daddy's recorded voice.
Being allowed to seek and know God.
Today.
Theology classes at church, flowerbeds, blogging, being a mom, being a wife, subfloor, lessons in false humility, awareness of self-idolatry, worthy Yahweh.
The promise that I will see Daddy again.
Polkadots, stuffed animals, a husband who plays with his sons, a husband who prays with his sons, hands that reach for me in slumber, the soft hum of the distant highway, patient laundry, tassels.
Daddy's laugh, Daddy's hands, Daddy's hugs, Daddy's twinkling eyes, Daddy's voice, Daddy's mannerisms.
Fruiting cane.
Sorrow.
Laughter.
A happy child's balm on grief.
Scripture, birds on bushes,
Athanasius
,
Elisabeth Elliot
, family outings, God's provision, the Throne of Grace, Jonathan's inquisitive mind.
Sunday, Feb 13 ~ 231-260
Hebrew and Greek words, a husband who serves the body of Christ, mirrors, assurance of salvation, Abba's omniscience.
C.W. Smith, George Sherlock, pastors who love their wives.
Chocolate-colored shower curtain, morning mist, new journals, mechanical pencils.
The Fishers. Like, seriously. WAY thankful for the Fishers. And Barb. And Julia.
Laurel.
Hyndman Peak, Mt. St. Helens, Mt. Hood, Mt. Jefferson.
Agates.
Romans 8:38-39.
Belonging to Jesus, permission to speak freely, chesed, permission to be totally loving and accepting of all people.
Good cheer in the midst of trouble, pain and fear.
Being led by still waters into mercy.
The earth filled with His glory.
British accents.
Monday, Feb 14 ~ 261-285
Early morning cuddles with James and Jonathan.
Date night to look forward to.
The love of God, the Sword of the Spirit, Psalm 147:3.
The distraction of Valentine's Day, the joy of gift-giving, one dozen red roses, garden kneeling pad, sacred red.
The Cross.
Little boys who sign their mama's valentine's cards "You know who."
The angels that carried Dad to heaven.
The eye of the beholder.
Being stranded in the Safeway parking lot for two hours. Grocery store full of rugged men holding delicate flowers. Parking lot attendant keeping pace with elderly shopper.
New clothes.
My date. The
I Declair
. Three stretch limos. Rolls Royce in parking garage and people taking pictures of it with their cell phones.
Picked up clutter, a roof over my head that keeps me dry during rainstorms.
Jeff's mom.