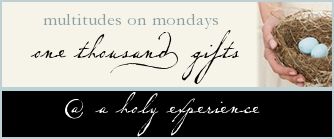 Last week I was all like, "Grumble, grumble, grumble..." about being content and grateful. But then, I found that I spent the entire week looking forward to this post. Go gratitude!
13. My new nephew!!!!! :D Yaaaaaaaaaaeeeeeeeeeeeey!!!! :D I know everyone says this, but he really *is* a super cute and handsome baby. I cannot wait to get to know him. *gush* *gush* *gush* And his parents are AH. MAY. ZING. Amazing! :D
14. Our seasonal pond, which after all the seasonal rain, is seasonally full of seasonal water. Very tranquil and magical. And seasonal.
15. An entire week of precious one-on-one time with a sick kiddo.
16. The apostate
Pride and Prejudice
songbook and its effects on grief.
17. The FlyLady.
18. My new sister, Kelly.
19. Jeff's 36th birthday and the privilege of sharing another year of life with him. And the privilege of teasing him about his age until my birthday in three months.
20. Tiny muffin tins.
21. The Women's Prayer Summit at church last Saturday.
22. Mephibosheth! (2 Sam 9. Go read it.)
23. Ziba. (See #22.)
24. A sermon on fellowship and a new concept: that fellowship is designed to make us holy, not to make me happy. Just like marriage.
25. Our across-the-road neighbor. Who is also our landlady's nephew. And who is also a partner in the vineyard at the top of our hill. Which is named after the road we live on. Which is named after the hill we live on. Which is named after our landlady's dad. Whose last name is really a German word that means "trail" or "path" but who changed his name when he immigrated to America because Americans couldn't pronounce his German last name.
26. The vineyard at the top of our hill, and our nice neighbor/landlady's nephew/winery owner who has officially given me permission to traipse through the vineyard at my leisure.
27. The answer to my prayer from 2005 that God would give me a hill to climb every day with a view at the top.
28. The end of shots until the far distant future called seventh grade, and the very brave little boy who got four Garfield bandages.
29. The same little boy's choice of a watermelon over frozen fudge for his "I got my shots" reward.
30. The shot nurse's receptionist's hair, which mine might soon resemble.
31. Friends who pray that I will hunger and thirst for God.
32. The view from my chair.