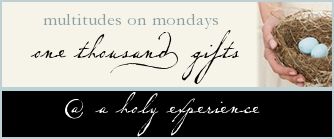 Yesterday I posted about my theme for the year: Contentment. Without excuse. (No more yabbuts!)
God showed me that the path to contentment is gratitude.
Jeana
sent me a link to a post from
A Holy Experience
about
what housework is really about
, and God used it to change my heart about my home. In short, my tasks, those things I'm supposed to do every day that bring order from chaos, are daily snapshots of redemption. Amazing!
A Holy Experience looked a little familiar to me, and I realized I recognized it because of the above button, which I have oft seen on
Kimberley's blog
. There's a book.
One Thousand Gifts
. It's about chronicling God's gifts to us. Accompanying the book is a
community
who post what God has given them. Kimberley is part of that community.
Kimberley pointed out, in view of my post, that I might think about joining.
I did not want to, even in view of my post. My mind immediately delved into a big, fat yabbut.
No earth-shattering reason. A normal reason. My flesh rails against being grateful. Why? Because gratitude requires humility, and my flesh rails against humility. Not rocket science.
Obviously, this year's theme is the right theme for me. I still feel pretty growly about it.
Grrrrrrrr...
Like that.
Oh, the irony. The first thing I have to learn to be content with this year is my theme of contentment.
Yabbut...
*sigh*
No more yabbuts!
Gratitude!
So I'm joining the community, and chronicling the gifts God has given me.
Here goes:
1. Ruth, who conversed with us today about ways to respond to the challenge presented by A Holy Experience, and then promptly went online and bought me a copy of
One Thousand Gifts.
It's in the mail.
2. Kimberley, who has been so faithful to post about what she is grateful for, in the midst of very dark days in her life, and has thereby ministered greatly to me.
3. Kiersten, who checks on me every day because I don't have the wherewithal to check on myself, and who knows all about me and loves me fiercely.
4. Jeff, who is an expert at taming little boy bedhead.
5. Fever reducers that reduce James's fever from 103.7 to 101.0.
6. Red hummingbird feeders.
7. Cat-in-the-Hat striped fuzzy socks.
8. Truth about redemption and its application to housekeeping.
9. God's promise to always bring good from evil.
10. Freedom from captivity.
11. The chronological 1-yr Bible.
12. A precious, fleeting moment with a rapidly growing boy.