That's my Uncle Nate on the left, and Daddy on the right. They're a little over four years apart.
There's Daddy in the middle, on his second birthday. Uncle Nate is on the left, and that's my Uncle David on the right.
The four brothers, from left to right: Uncle David, Uncle Bruce, Uncle Nate, and Daddy. (They had a big sister, too, but Aunt Judy is not pictured with this mischievous bunch.)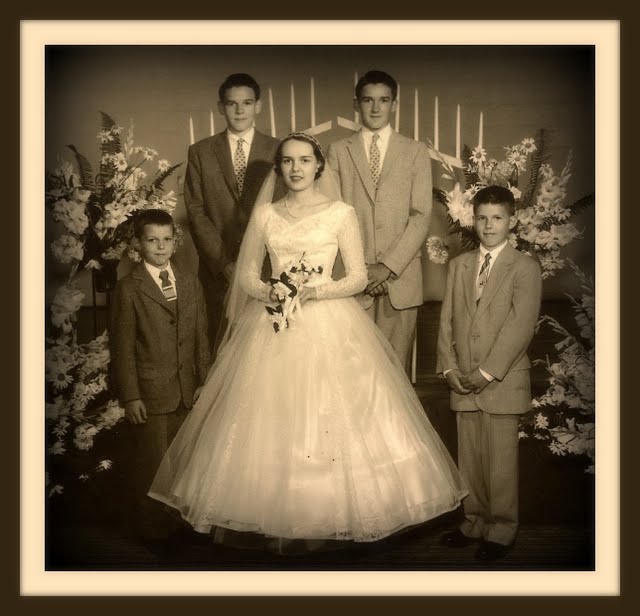 Ah, there she is. Flanked, left to right, by Uncle Bruce, Uncle Nate, Uncle David, and Daddy.
There's Daddy on the left, and Uncle Nate on the right. Those jars are full of honey!
Daddy and Mom and my three older siblings on the left, Uncle Nate and Aunt Judi and my three cousins on the right (plus an unidentified neighbor kid in the middle).
L-R: Uncle David, Daddy, Uncle Nate, and my grandpa.
L-R: Uncle David, Daddy, Grandpa, Uncle Bruce, and Uncle Nate.
The above is what Uncle Nate looked like the first time I saw him. He'd been on the mission field when I was a baby, and I vividly remember the day we met. Daddy paced restlessly around the house for what seemed like hours, and then a car pulled into the driveway, and he shouted, "They're here!"
He bolted out the front door and down the porch steps as a tall stranger bounded out of his car, bubbling over with laughter. The two brothers engulfed each other in an enormous bear hug and laughed more boisterously than I'd ever seen anybody laugh before. I'll never forget the intensity of the joy they both expressed at being reunited after years apart.
This is Daddy talking to Uncle Nate's son at a family gathering.
Uncle Nate and Daddy chatting at their mom's 80th birthday party.
Daddy holding Uncle Nate's granddaughter.
Mom, Daddy, Uncle Nate and Aunt Judi at a family wedding.
Uncle Nate talking to my brother after our Aunt Judy's memorial service.
Uncle Nate, Aunt Judi, and Daddy at my parents' 40th wedding anniversary gathering. Lifelong friends.
Uncle Nate and family friend Jim after Daddy's memorial service. Jim was pastor to both brothers for several years.
Uncle Nate playing with Daddy's grandson after the memorial service.
A week or so after God gave us our property, I got a call from Uncle Nate. At first, I was a little concerned that someone had died, because Uncle Nate always seems to get stuck with the task of bearing bad news. He called my dad when his dad died, he called me when his mom died, he called me when his sister died, and he was the first of Dad's brothers that I spoke with right after Daddy died.
During those first days, we were both overpowered by intense grief, but even so, Uncle Nate was my guide. I was in the checkout line at Wal-Mart,
buying slippers
, when he called. We discussed travel logistics a little, and I don't remember how we got around to talking about our grief, but I very clearly remember Uncle Nate saying, "I'm angry!"
I needed that. I needed him to be angry. To express it to me righteously. To show me how to do the same. In fact, if you have time,
listen to what Uncle Nate said at Daddy's memorial service
. One phrase in particular has echoed in my mind like an emotional anchor in the storm of my grief: "I thank the Lord and Tim for that."
Anyway, when Uncle Nate called after we got our property, it wasn't because someone had died. Well, not
another
someone, anyway. He said he'd heard we had acquired a fixer-upper, and he wanted to come help. I teared up immediately. I had been so sad that I couldn't share my good news about the property with Daddy. It was such a comfort to be able to share it with his brother. He is pictured here masking our master closet paneling, and blessings on him for it.
When Uncle Nate came to help, he brought his camera so he could show me this picture. Uncle Nate and Daddy shared a passion for hiking, and unbeknownst to me, they also shared a passion for bandannas. Unbeknownst to Uncle Nate was that Daddy's bandannas were always red, his favorite color. Now, in Dad's honor, Uncle Nate always hikes with a red bandanna.
The second time Uncle Nate came to help, he installed our dog door and built this dog run for Rosy. All that day I stewed around trying to figure out a way to express my gratitude for his presence and help, but late in the afternoon, I just walked right up to him, looked intently into his eyes, and blurted, "You have no idea how much it means to me that you're here."
We both teared up a little, and Uncle Nate said not only was it his pleasure to help, but it was spiritual for him as well, because God had impressed on his heart my need of a father figure, and my siblings' need as well. He said he felt the desire keenly as Dad's brother, and he wished he could do so much more to fill in the blank left by Daddy. But helping us with our house was definitely something he could do, and he was grateful to do it.
Me too.
Uncle Nate has been in the wood stove business for most of my life, so when he came to help, he immediately identified our need of a fireplace insert. In fact, he happened to have a stove taking up space in his garage that he said he'd bring over. Round about the time the weather turned colder, a mouse shimmied into the furnace's breaker box and chewed through the wires, frying both itself and the furnace in the process. Not a huge deal. The sun warmed the house, and we had a couple of space heaters to start and end each day.
Then, just in time, when the sun went into hibernation and the rains took up winter residence, Uncle Nate brought us a family heirloom. Well, it's not
really
a family heirloom, but Uncle Nate bought it new 19 years ago, and it warmed two of his houses and Aunt Judy's house before our house became its fourth home. It's a family stove that will warm our home and our hearts for years to come.
Thank you, Uncle Nate, for everything. I love you, too.